TORSO PROTECTOR
The highlight of the completely redesigned PROTECTION WEAR range is without a doubt the TORSO PROTECTOR. With the new LITESHIELD FLEX technology, it offers excellent protective qualities coupled with unparalleled freedom of movement - without ever compromising in regard to safety. With the waterproof TORSO PROTECTOR PIN PACK, EVOC has made an exclusive development, that seems quite obvious, but still is exceptional.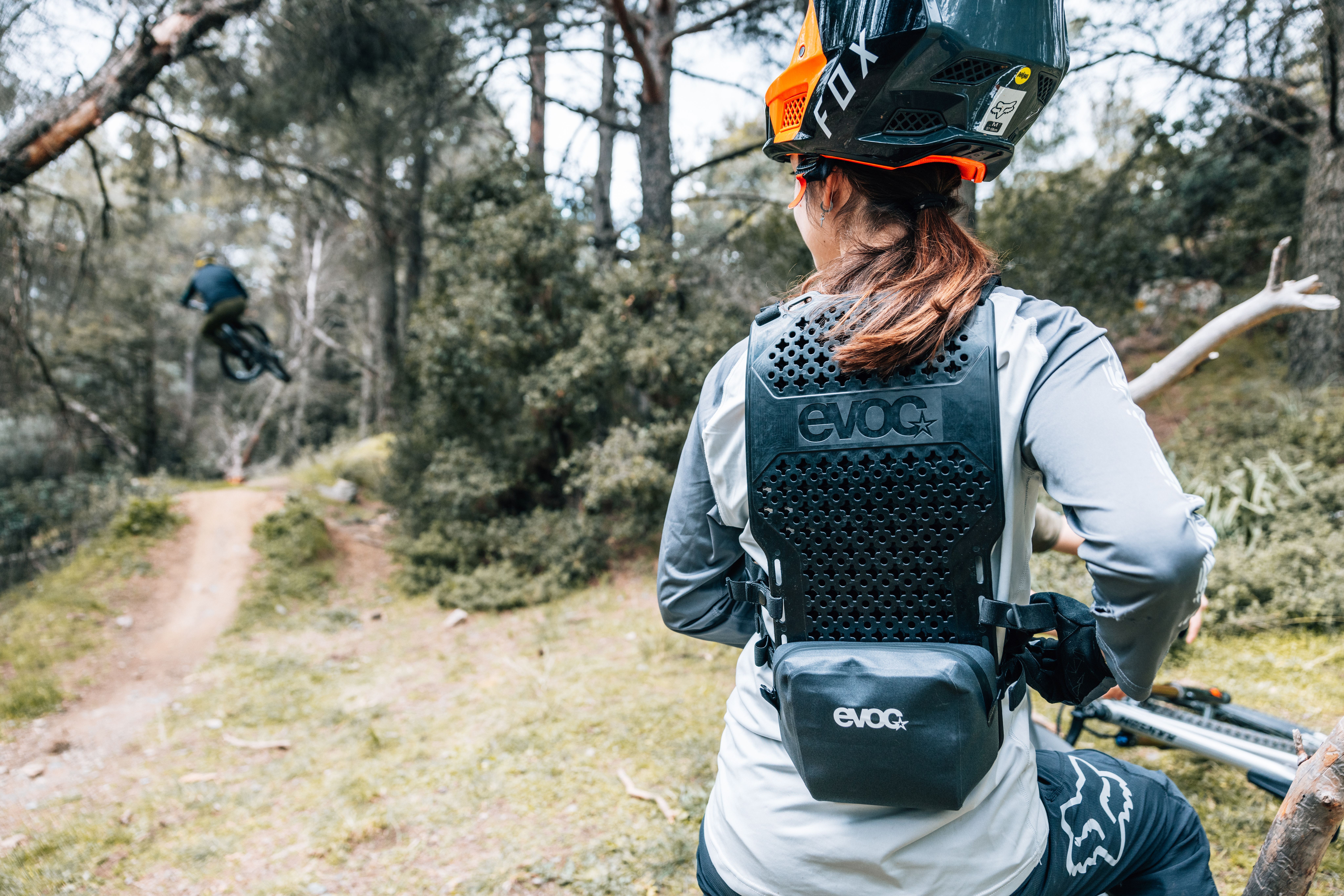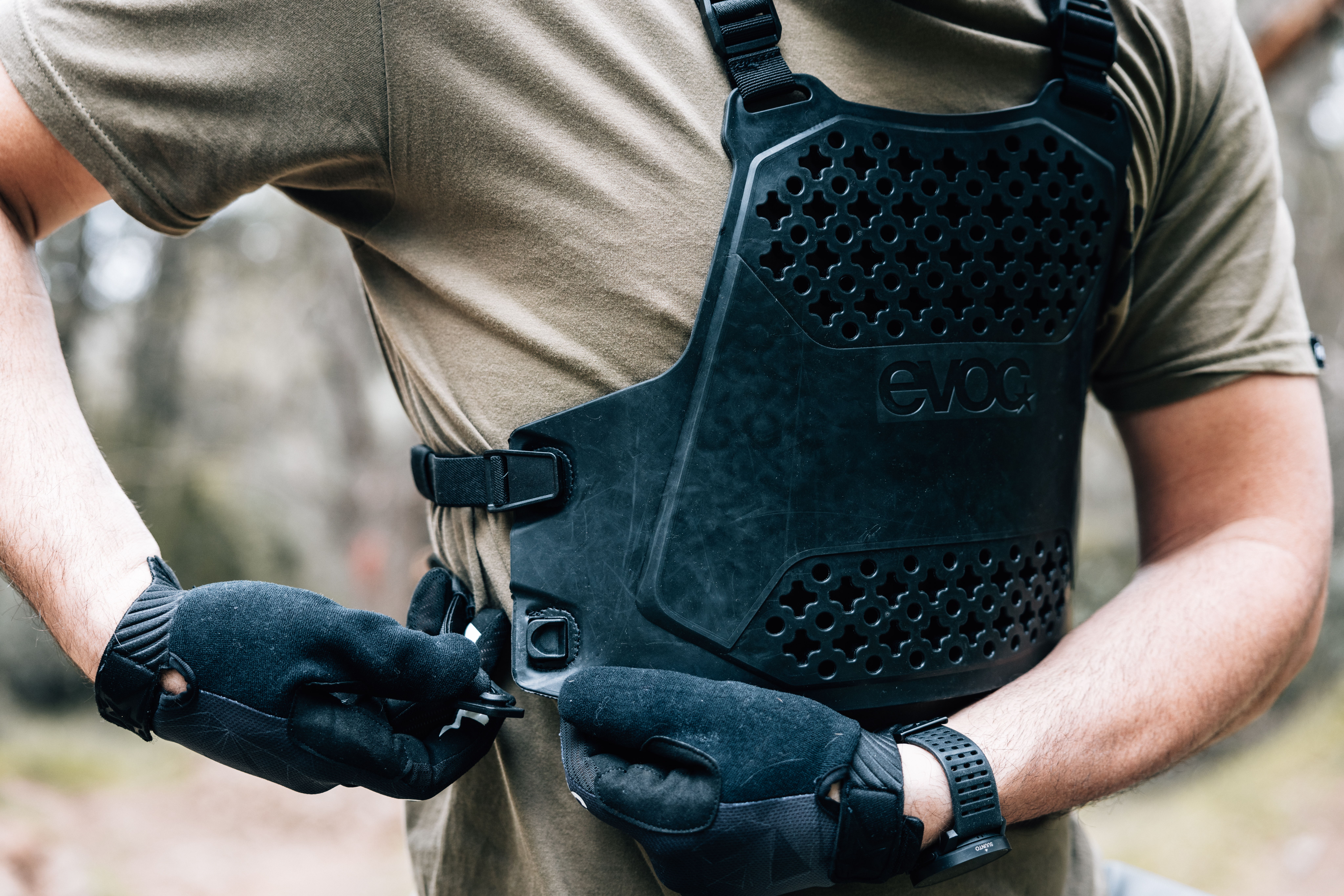 TORSO PROTECTOR
The TORSO PROTECTOR is a special back and chest protector that can be worn over the bike jersey. Boasting EVOC's newly developed LITESHIELD FLEX protector technology, it provides the highest Level 2 protection, 95% shock absorption, and exceptional flexibility. The result: maximum safety and incredible mobility. A bold grid construction allows efficient ventilation, thereby adding another level of comfort. Furthermore, LITESHIELD FLEX is extremely temperature-insensitive, offering the same functionality from -20 to +40 °C. In a nutshell, even if your protector is exposed to direct sunlight during a break, the material won't get too soft and will continue to absorb impacts as efficiently as ever. The TORSO PROTECTOR is ergonomically pre-formed and has adjustable straps that allow it to fit bodies of almost every size and shape. It is easy to clean, dries fast, and has room on the chest protector for an action cam. It can also be combined with the TORSO PROTECTOR PIN PACK WP 1.5 so you can store tools, snacks, and more.
Temperature-insensitive LITESHIELD FLEX protector technology with maximum protection (Back: EN 1621-2, Level 2-certified and chest: EN 1621-3, Level-1)
Ultimate comfort thanks to exceptional flexibility and 3D ventilation
One size fits all: suitable for body heights from 1.55 m to 1.98 m
Adjustable straps with magnetic buckle
Can be combined with TORSO PROTECTOR PIN PACK WP 1.5
UVP: 190 $ / 190 €
TORSO PROTECTOR PIN PACK WP 1,5
The TORSO PROTECTOR PIN PACK WP 1.5 is a bag that was specifically designed for the TORSO PROTECTOR. It can easily be attached to the back of the protector via the FIDLOCK magnetic buckles and has enough storage for the most important trail necessities, such as your mobile phone, tools, and snacks. It's made of abrasion-resistant fabric that's easy to clean and PVC- and PFC-free, and it's ready to tackle rain, mud, and dirt thanks to its sealed seams, waterproof fabric, and waterproof zipper.
Special bag for the TORSO PROTECTOR
Can be attached to the back of the protector via FIDLOCK magnets
Waterproof and easy to clean
PVC- and PFC-free
UVP: 75$ / 75 €
Press information available for download:
PM_EVOC_TORSO PROTECTOR_en.docx
DOCX - 1.3 Mb
Download
PM_EVOC_TORSO PROTECTOR_en.pdf
PDF - 634 Kb
Download
Product photos available for download: New TORSO PROTECTOR
Action pictures ©EVOC ​ // Philipp Herfort Photography