PROTECTIVE "WATER CARRIER" WITH FACELIFT: THE NEW FR LITE RACE 10l ENDURO PROTECTOR BACKPACK
EVOC SPRING/SUMMER 2019: The new FR LITE RACE 10l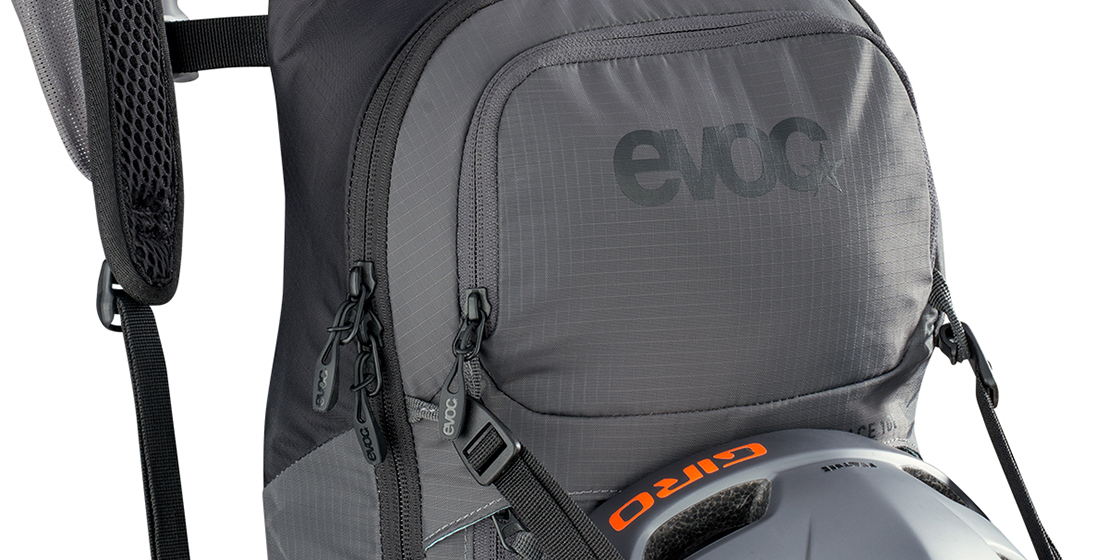 STRENUOUS, TECHNICAL, DEMANDING – ENDURO RACES DO TAKE YOU TO YOUR LIMITS. ALL THE MORE REASON TO BE ABLE TO RELY 100% ON YOUR BACKPACK AND, IDEALLY, NOT EVEN REALLY FEEL IT ON YOUR BACK. FOR THE COMPANY'S TEN-YEAR ANNIVERSARY, EVOC HAS GIVEN THE FR LITE RACE 10l A COMPREHENSIVE FACELIFT. THE MINIMALIST RACING PACK NOW BOASTS NEW FEATURES, AN ERGONOMIC UPDATE AND A NEW LOOK. FOR SPRING/SUMMER 2019 THE LIGHTWEIGHT WILL BE AVAILABLE IN THE FOLLOWING COLOUR VERSIONS: CARBON GREY/BLACK, CARBON GREY/SULPHUR AND CARBON GREY/ORANGE.
Whether you're going up or down, the perfect enduro backpack should not shift, hamper you or stick to your back. The new EVOC FR LITE RACE 10l is an extremely lightweight, compact and flat backpack with a LITESHIELD back protector that is specifically designed to meet riders' needs during enduro races. The main compartment can be folded out fully and has space for a 3-litre hydration bladder, besides the protector that offers 95% impact absorption.
A totally new feature in the FR LITE RACE 10l is the tool compartment. Whereas you had to fold this compartment out in the predecessor model, it is now integrated in the front of the backpack, which means you can access it quickly, easily and conveniently via a double zipper using only one hand. When you're in need of an energy boost, simply grab an energy bar, etc. from the NUTRITION COMPARTMENT on the left chest strap of this "rear water carrier". For an even more comfortable fit, we have reduced the length of the back section by five centimetres and enhanced the ergonomics of the shoulder straps by attaching them to the top edge of the FR LITE RACE 10l. This prevents the backpack from sliding onto your neck and touching your helmet on steep and fast down-hill runs. The back section is also narrower now – for even greater freedom of movement and even less contact with your back.
Maximum breathability when chasing seconds is ensured through moisture-wicking 3D AIR MESH fabric in the lumbar area, on the shoulder straps and on the flexible hip belt. The hip belt also helps transfer the main load towards the body's centre of gravity, fixing it to the hips. The LITESHIELD SYSTEM AIR features a large, central ventilation channel and ventilation grooves and EVA padding on either side, resulting in a smaller contact surface without compromising the necessary proximity to the back. Additional features include the height-adjustable chest strap, an inside pocket with carabiner for keys, a fleece-lined sunglasses pocket and a hip belt pouch with zipper.
The FR LITE RACE 10l will be available for purchase as of fall 2018.
SPECIFICATIONS
FR LITE RACE 10l
Volume: 10 l
Dimensions: 26 x 51 x 8 cm
Weight: 970 g
Colours: Carbon Grey/Black, Carbon Grey/Sulphur and Carbon Grey/Orange
Sizes: S, M/L
Price: 150.00 €
Press release for download (doc)
DOCX - 470 Kb
Download
Press release for download (pdf)
PDF - 292 Kb
Download