HARD SHELL, FAST CORE
The new EVOC ROAD BIKE BAG PRO bike travel bag with hybrid construction is designed to safely stow individually fitted racing and triathlon bikes in 2020 - without having to adjust the cockpit or saddle.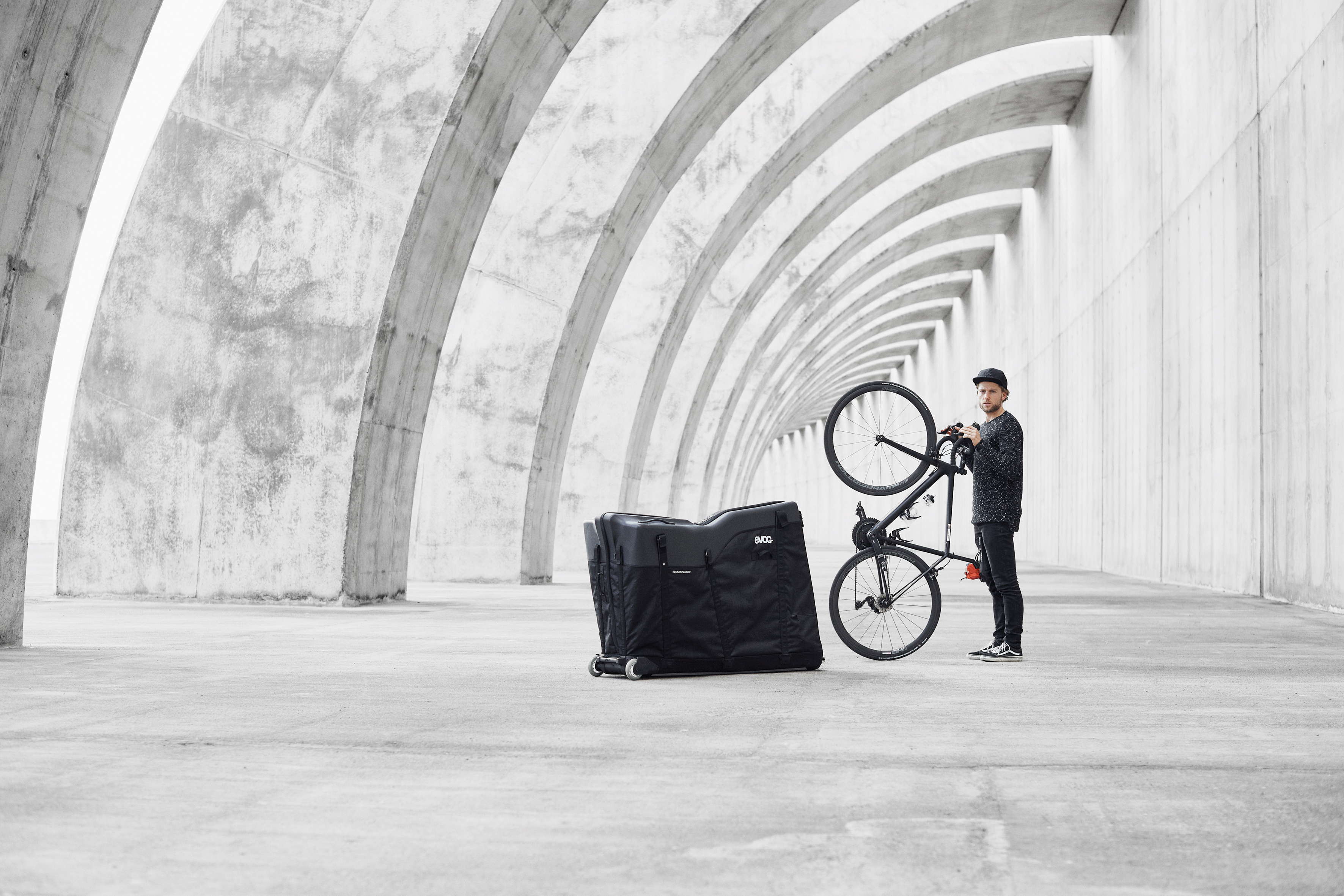 "Bike fitting proof"Cockpit and saddle do not have to be modified or removed
Innovative hybrid design with hard-shell elements offers optimum transport protection
Variably fixable, internal side stabilizer protects against lateral pressure 
Includes ROAD BIKE STAND, WHEEL BAGS and CLIP-ON WHEEL
Lockable according to TSA standard
Every millimeter counts: For perfect performance, racing and triathlon bikes are precisely adjusted to body dimensions. This makes it all the more difficult if you have to alter or even disassemble the optimally fitted bike for travelling. With the ROAD BIKE BAG PRO, EVOC once again proves its competence as the world's leading manufacturer of Bike Travel Bags in Spring/Summer 2020, making it easier for triathletes and road cyclists to travel with their bikes: seat posts and handlebar constructions no longer have to be adjusted or removed.
Innovative hybrid design: "Soft where possible and hard where necessary."
The in-house developed bike travel bag concept with hybrid construction offers excellent protection at low weight, high stability and easy handling for more travel comfort. While a lid made of impact and pressure-resistant polycarbonate shells protects the cockpit and saddle and the bottom EVA protects the base, the abrasion-resistant side walls (P600D PU) are reinforced by removable hard plastic rods. Pressure on the bag from the outside is diverted according to a smart concept and never touches fragile parts.
Once the wheels and pedals have been removed, the frame can be mounted on the adjustable ROAD BIKE STAND made of aluminium and hard plastic in just a few simple steps. In the ROAD BIKE BAG PRO the frame including the STAND is fixed at strategic points with easily recognizable red velcro straps on the side walls. A COCKPIT-PAD provides additional padding for the handlebar construction. The wheels fit into the WHEEL BAGS that come with reinforced axle protection and are placed to the side of the frame. A variably fixable, internal side stabilizer protects against lateral pressure on the wheel.
Quiet and convenient
The lockable ROAD BIKE BAG PRO transports bikes not only extremely safely, but also very comfortably. The extra-wide monocoque chassis is stable and can be pulled quietly and easily thanks to the skate wheels. A clip-on wheel can be attached to the sturdy aluminium handle for longer distances. A variety of carrying handles make handling even easier. If the bicycle travel bag is not in use, it can be folded and stowed away to save space.
The new EVOC Road Bike Bag Pro will be available from Autumn 2019.
​www.evocsports.com
---
Press release, specifications and prices to download:
EVOC_2020_RBBP_EN.docx
DOCX - 821 Kb
Download
Royalty free press images – ©EVOC. Please click to enlarge and download: ​
Would you like to test and review the EVOC RBBP? Please insert your details HERE . We will contact you once test-samples are available.
If you have any questions, don't hesitate to contact us: