From Fall/Winter 2020/2021 EVOC will protect you with the new LITESHIELD PLUS protector technology
The LITESHIELD PLUS back protector specifically designed by backpack specialists EVOC will now protect your spine in the snow or on the bike at level 2 (EN 1621-2), it is ergo-dynamically flexible and lightweight. With its plus of protection it will premiere in the new PROTECTION WEAR range of Fall/Winter 2020/21.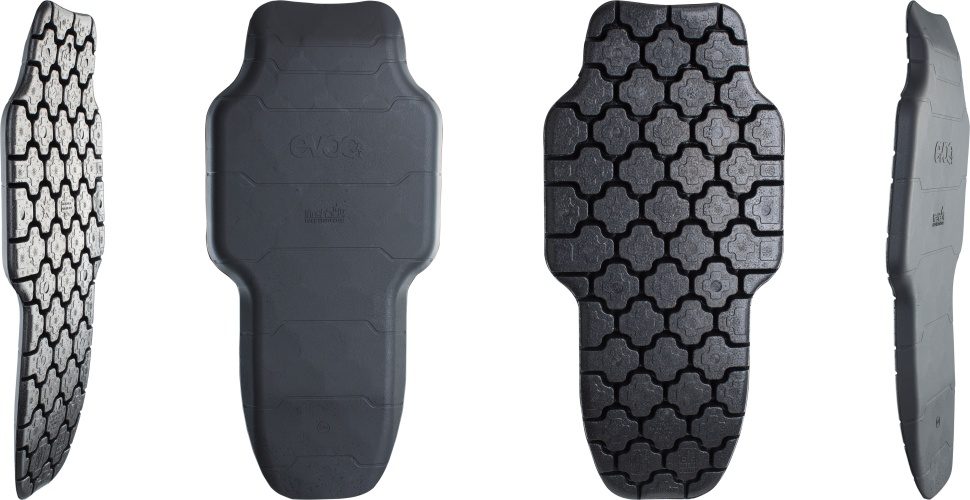 This cutting-edge, extremely lightweight and flexible back protector offers excellent impact protection properties. The two-component sandwich construction developed at the EVOC headquarters consists of a combination of expanded polypropylene (EPP) and a TPU carrier layer. The EPP pellets are formed under high pressure and steam and simultaneously bonded with the carrier layer-without the additional use of adhesives.
The highly compressed EPP foam is preformed which ensures optimal protection of the thoracic spine, the lumbar spine and even the sacrum. The portion of the protector in contact with the back is composed of plus-shaped elements (segmented Plus-Design - referring to the plus in protection). This design also creates a multitude of ventilation channels for maximum air circulation. The segmented arrangement also ensures high flexibility in all directions: the plus shaped protector elements can move independently. This means they adapt perfectly to all movements while the protector remains as close to the spine as possible, hereby providing increased protection and comfort.
"For me, the Liteshield Plus Protector is the logical advancement of the EVOC Liteshield Protector with the new material that offers improved impact absorption properties and the combination of flexibility and stability provided by the innovative manufacturing process. This process also enables us to avoid the use of solvents which makes it more skin friendly," says Tobias Reischle, product manager and industrial designer at EVOC.
The horizontal, stepped flex lines determine how the new LITESHIELD PLUS BACK PROTECTOR flexes while providing constant contact to the back in any situation. The EPP protector material has a closed-cell surface which prevents the intrusion of humidity and dirt. The flexible, tear-resistant TPU carrier layer in the front keeps the protector in shape.
​​
​The new LITESHIELD PLUS will premiere in our completely re-engineered 2020/2021 Autumn/Winter PROTECTION WEAR range and from Summer 2021 it will also protect the spines of mountainbikers.
Facts:
CE standard EN 1621-2
TÜV + GS certified
Level 2: with a residual force value averaging 8.23 kN, 95% of the impact force is absorbed.
Extremely lightweight: 168 g
Sizes: S/M; L/XL
---
Press release to download:
PR_EVOC_LITESHIELD+_EN.docx
DOCX - 445 Kb
Download
Press images for download: