EVOC's NEW LITESHIELD FLEX TECHNOLOGY: ULTIMATE PROTECTION AND MAXIMUM COMFORT! 
Unparalleled protection and comfort - that's LITESHIELD FLEX, the new, in-house-designed protector technology by EVOC. As the heart of numerous new EVOC PROTECTION WEAR products, the LITESHIELD FLEX offers - nomen est omen - ultimate flexibility and hereby constitutes a never before experienced degree of comfort on the bike or in the snow. It represents excellence in impact protection while remaining lightweight and ventilated and adapts perfectly to the body in any movement at any temperature.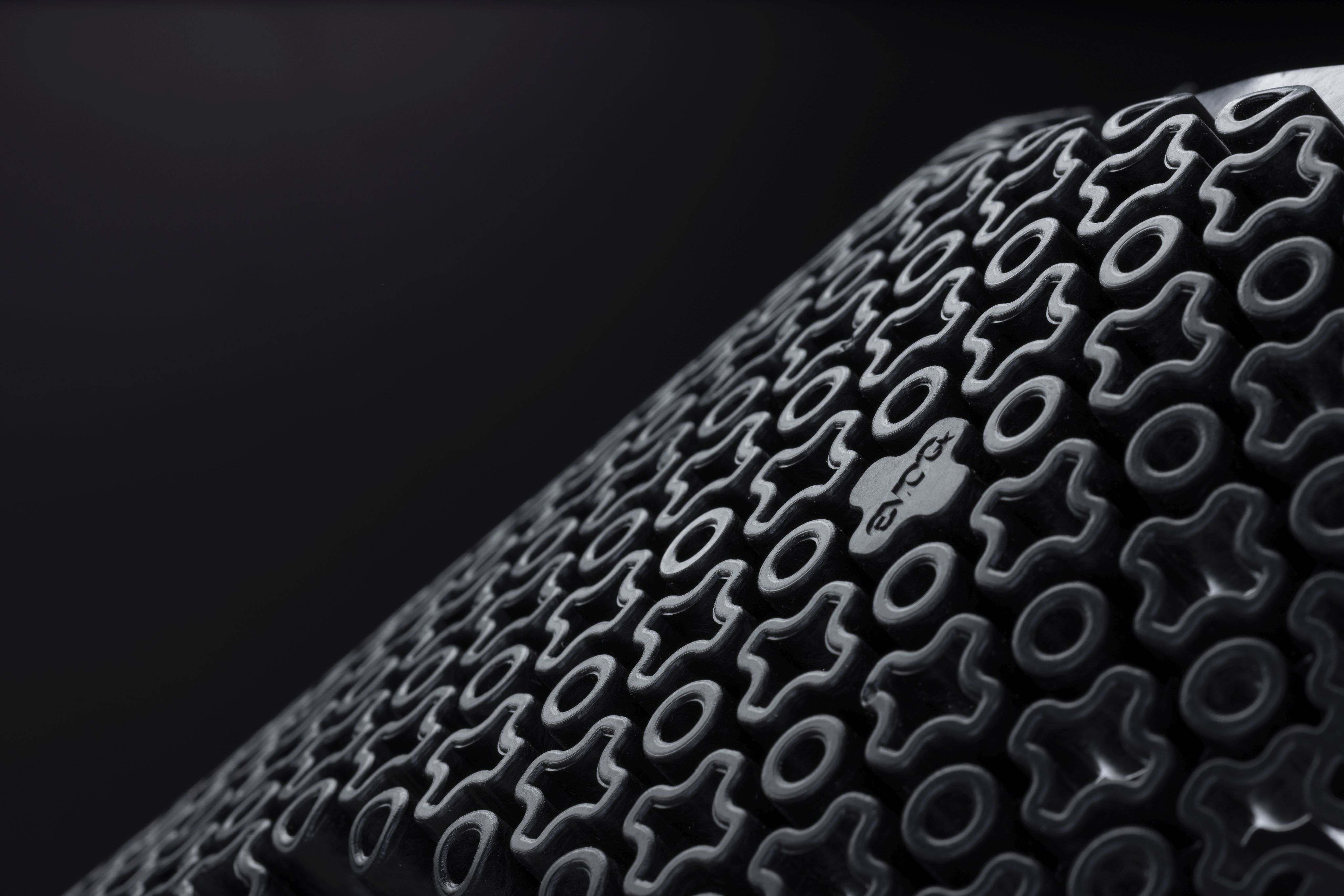 In order to achieve all these feats, EVOC has combined its self-developed, highly flexible thermoplastic elastomer mix (TPE) with a geometry consisting of cross and circle elements which was also developed in house. This homogeneous pattern not only ensures considerable weight reduction, but also provides excellent air flow, preventing heat accumulation herby perfecting comfort. The result is also an ergo-dynamic flex thanks to which the protector fits like a second skin enabling it to follow every movement smoothly. ​ 
Simultaneously, the LITESHIELD FLEX technology offers outstanding protective properties. In a fall or impact situation, it absorbs 95% of the impact energy and is therefore certified according to CE standard EN 1621-2, level 1 for personal protective equipment. This high-performance damping and protective functionality can help prevent injuries while performing sports. ​ 
A further highlight is the temperature insensitivity of the TPE mix. The LITESHIELD FLEX protector technology offers constant impact protection and flexibility at a temperature range from -20 to +40 degrees C, making it ideal for winter and summer sports alike. ​ 
However, high flexibility, excellent protection, low weight and great comfort are not where the capabilities end: the TPE material used in the LITESHIELD FLEX, in contrast to two-component foams commonly used in protectors, can be molten down and completely recycled. This saves resources and reduces the ecological footprint. 
The innovative LITESHIELD FLEX technology is used in the following EVOC PROTECTION products: TORSO PROTECTOR, PROTECTOR JACKET PRO, PROTECTOR SHIRT ZIP, PROTECTOR VEST PRO MEN, PROTECTOR VEST PRO WOMEN, PROTECTOR VEST LITE MEN, PROTECTOR VEST LITE WOMEN, PROTECTOR VEST MEN, PROTECTOR VEST WOMEN, PROTECTOR JACKET KIDS and PROTECTOR VEST KIDS.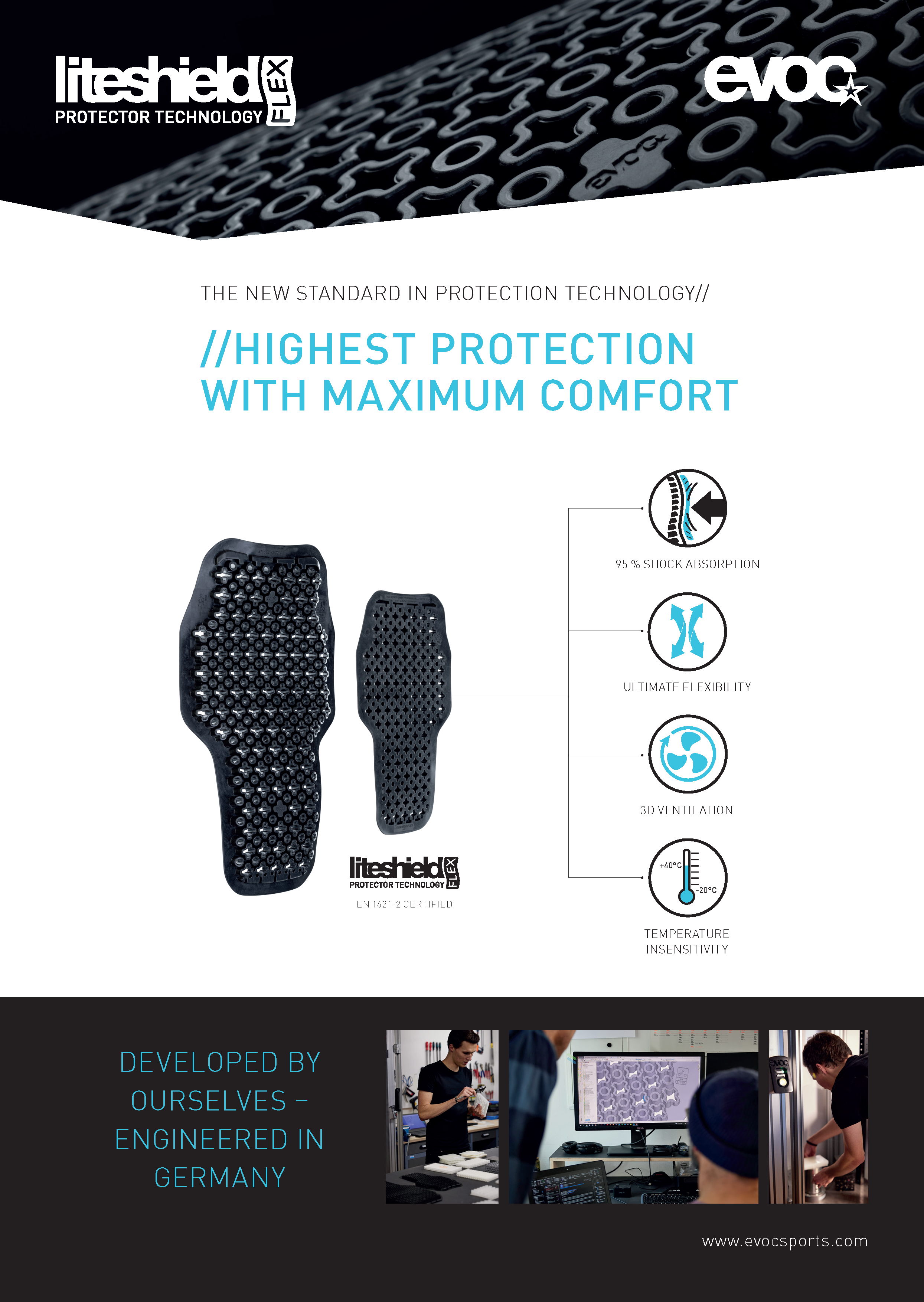 LITESHIELD FLEX at a glance: 
 95% impact absorption: efficient protection according to CE standard EN 1621-2, level 1 for personal protective equipment 
Ultimate flexibility: ergo-dynamic flex thanks to special TPE mix and sophisticated EVOC geometry design 
3D-ventilation, low weight, high degree of comfort: enabled by the highly breathable, homogenous pattern 
Temperature insensitivity: consistently high level of protection and flexibility throughout a temperature range between -20 and +40 degrees C ​ 
Product pictures available for download:
New EVOC PROTECTION WEAR Men/Unisex
New EVOC PROTECTION WEAR Women