EVOC and BORA – hansgrohe are going on tour together starting in 2021
EVOC, global market leader for bicycle travel bags, will partner up with road cycling WorldTour team BORA - hansgrohe as their "official supplier for travel luggage". The Munich based specialist for sports travel goods will support the UCI WorldTeam with products specifically developed for road cycling, ensuring to make the transport of equipment easier and more secure.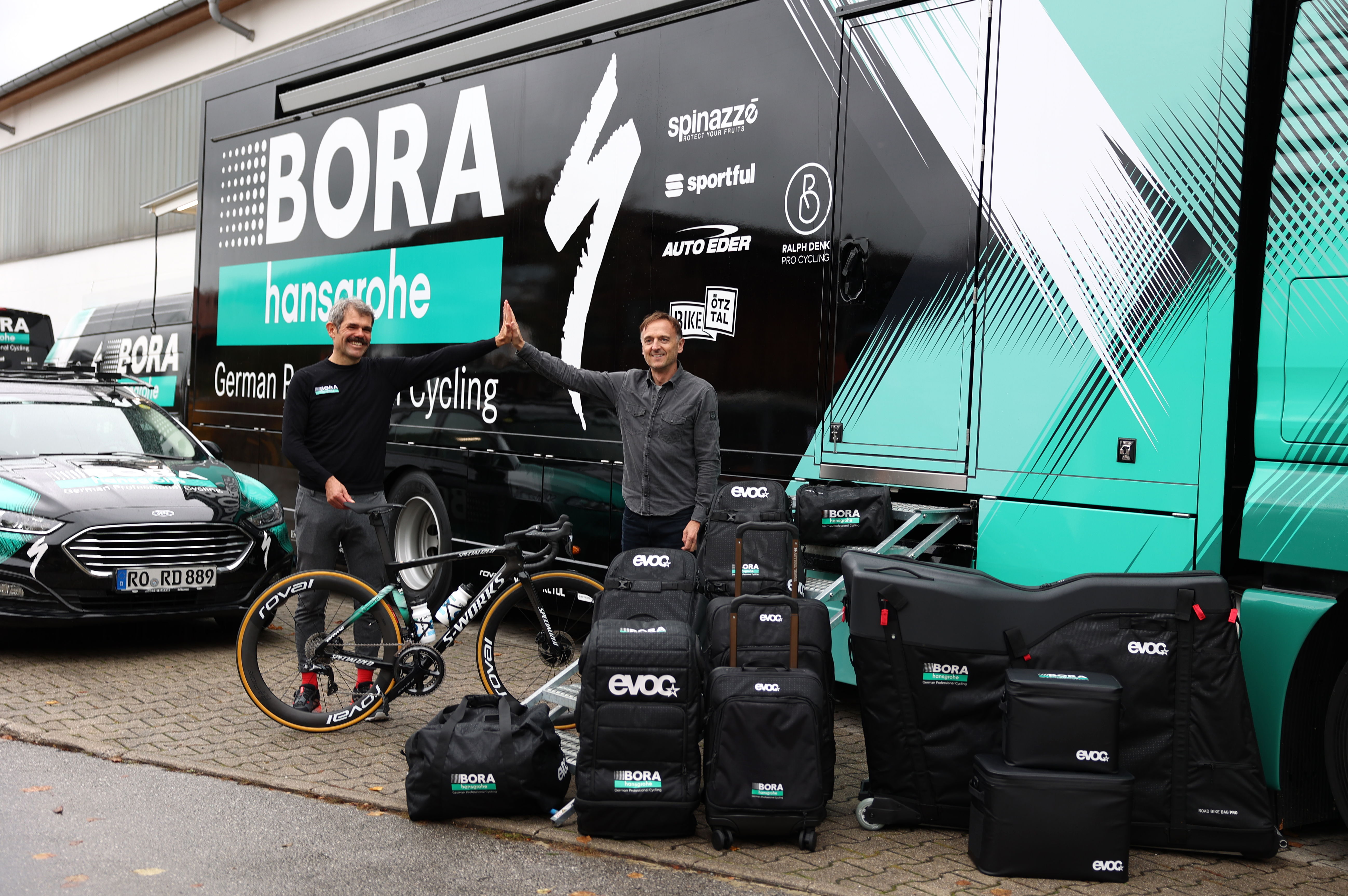 Munich - Raubling, Germany, 15th December 2020. Travel, transport and logistics in professional road cycling are immensely exacting for bikes, material and equipment. This is why it is all the more essential for luggage and transport solutions to withstand that strain. So it was a relatively logical consequence for one of the world's best road cycling teams to pair up with the leading expert for bike travel bags and sports travel goods. The collaboration between EVOC and the team BORA - hansgrohe will begin on 1st January 2021.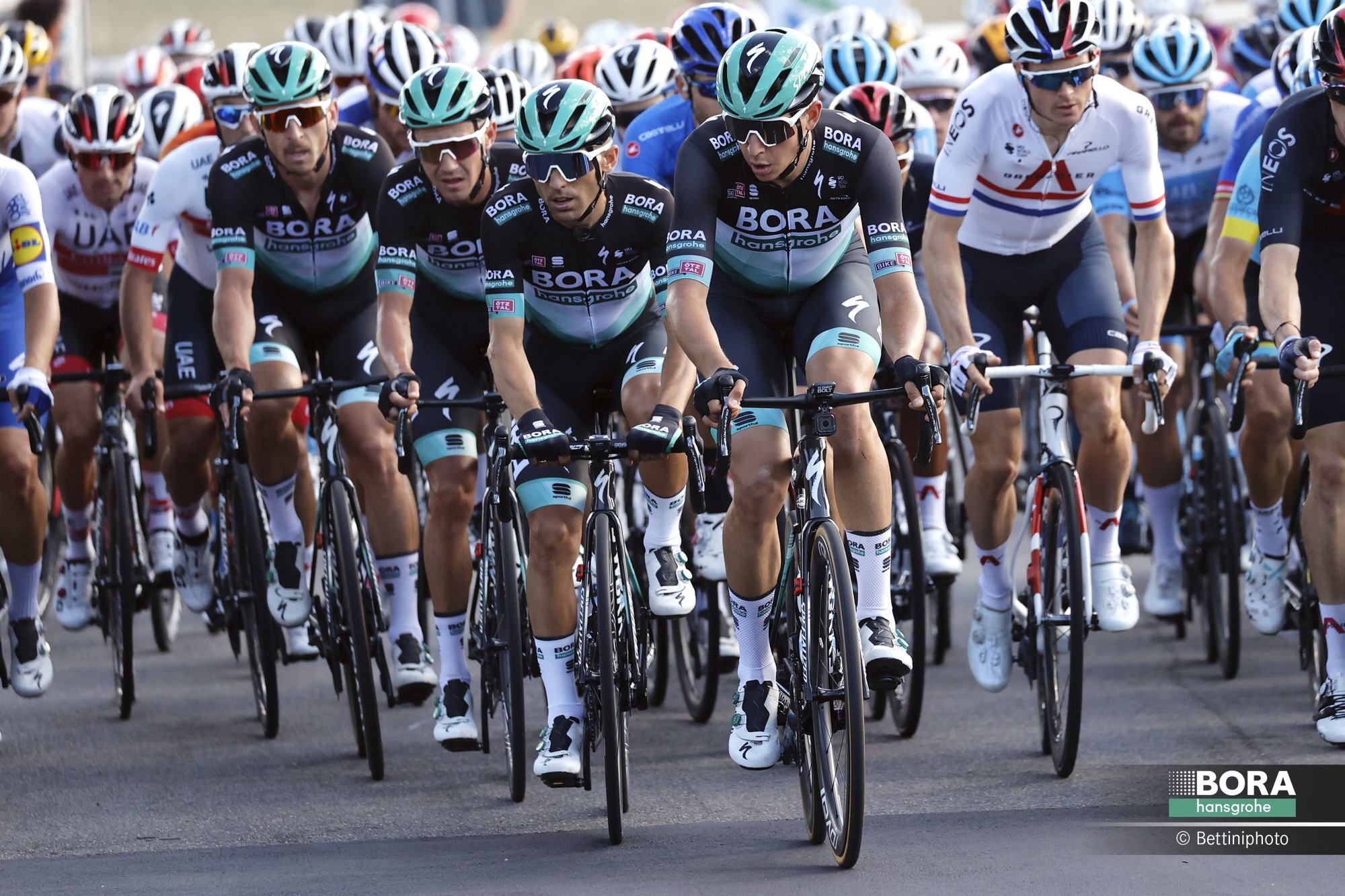 EVOC cofounder Holger Feist is looking forward to the cooperation:" Finally and after a long planning period, the cooperation between BORA - hansgrohe and EVOC can finally start. Both parties are renowned for highest quality, performance and an unwavering passion for sports. We here at EVOC are very proud to be accompanying the world's best road cyclists to training and competitions with our bags. And through this cooperation, where our products will be taken to their limits on a daily basis, we are hoping for vital feedback for further developments and even higher standards of quality." ​
Aside from the high standards the two companies have set for themselves and their achievements, there is also another connection. They share the cultivation of regionality and both had to fight their way to success against outside resistance.
Ralph Denk, team manager of BORA – hansgrohe continues: "It fills me with pride to see that the global leaders for travel and bike bags, also based here in Upper Bavaria, are making their way into professional cycling together with my team. The partnership has intensified over a longer period of time. Together with EVOC, we have been collaborating on specific road cycling products that live up to the requirements of a WorldTour team. From the start, I felt that we were on the same page and would be able to achieve a lot. Now that I am holding the products in my own hands for the first time, I am certain that our equipment will always get to the races around the globe safely. I am looking forward to our Bavarian collaboration and I'm sure that it will be a success for both sides."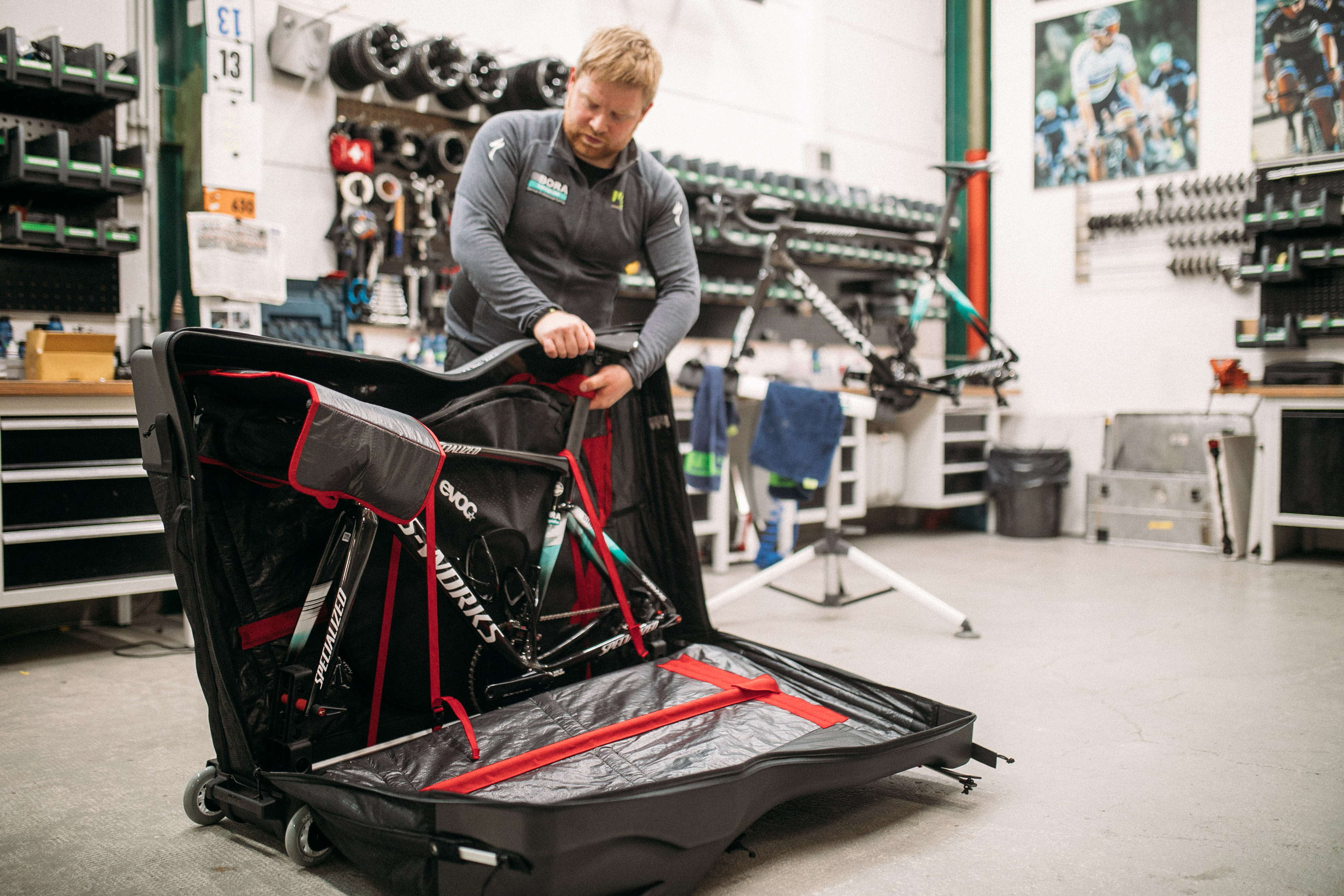 "For me, collaboration with a professional team is beneficial, because the wear of the products far exceeds anything we would expect from private use. This means we get essential feedback on durability and wear resistance", says Tobias Reischle, product developer at EVOC.
If you keep in mind that a Grand Tour entails up to 21 changes of hotels, you get an idea of how traveling with sports equipment can be taken to a whole new dimension.
"For example, the pros rationalize a great deal when it comes to the use of our Bike Travel Bags. This means that, ideally, we get a lot of suggestions for improvement on how to make them even simpler and more intuitive to operate, resulting in increased user friendliness - not just for professionals. The frequency of use and intensity of travel with the bags are what constitutes the decisive distinction from hobby and leisure applications", continues Reischle."Lastly, it's a great motivating factor for the entire product team to be privileged to work for professionals and to know they are traveling the world with our Road Bike Bag Pro, to hope for their success and to be in a position to make a contribution with our work." ​ ​ ​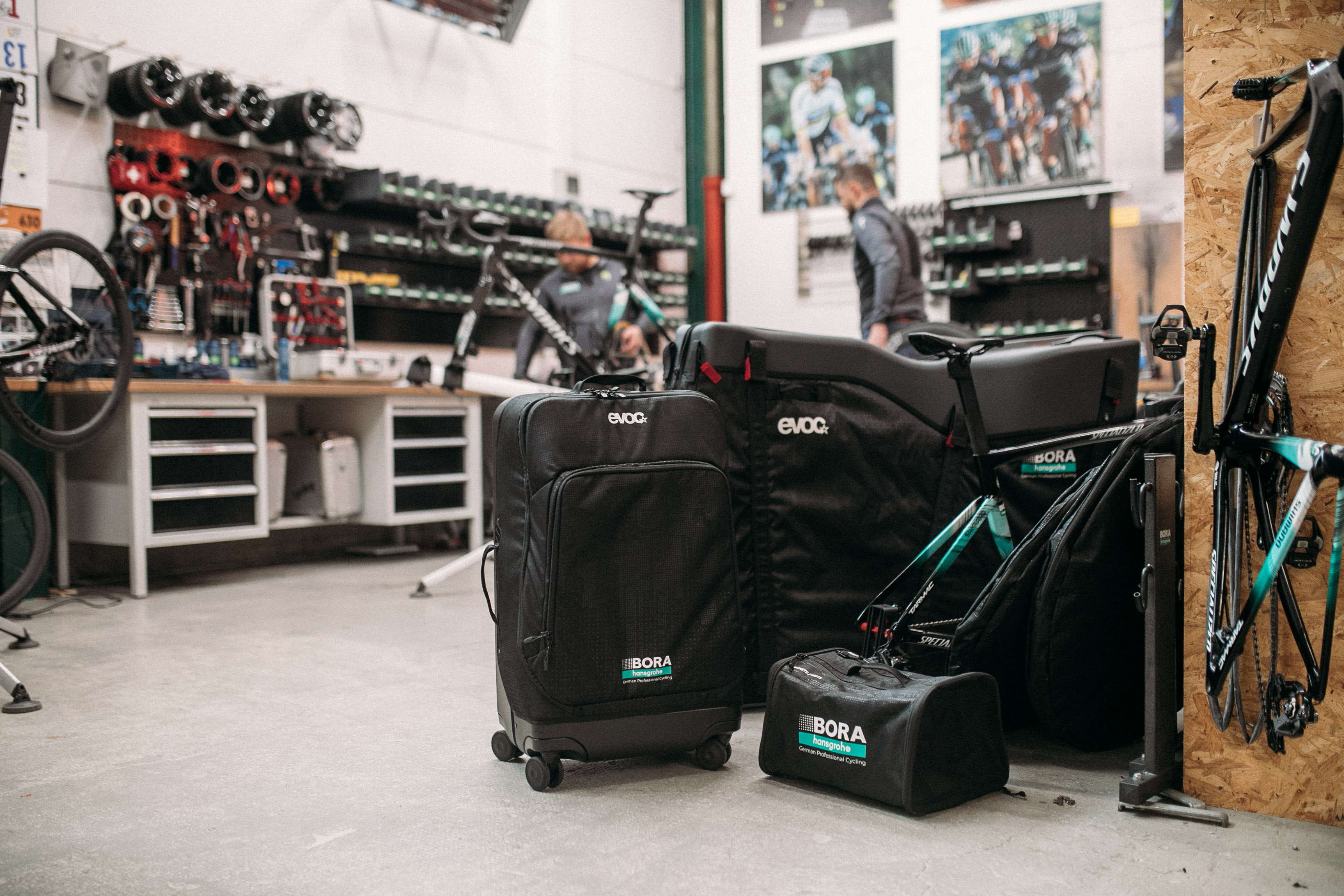 The range which has been exclusively developed for and with BORA - hansgrohe comprises eleven products that make transporting equipment safer, as well as more comfortable and that support the supervisory staff during the races. One of these is the Road Bike Bag Pro, a unique bike travel bag with a hybrid construction in which individually adapted road bikes can travel securely without the need to alter the cockpit or saddle setup. In addition, riders and team can look forward to their individual pillow bags, washing nets, suitcases, as well as backpacks while the work of supervisory staff will be facilitated by special physio and medical backpacks, cool bags, rain bags and finish-line backpacks. The EVOC BORA - hansgrohe product line will initially be reserved for the team, however an extensive range of EVOC sports travel goods is generally available. ​ ​
More Information regarding the cooperation
More information regarding the EVOC SPORTS TRAVEL COLLECTION
#EVOCbike
#travellikeapro
---
About EVOC: ​
EVOC Sports GmbH is an owner-managed company based in Munich, specializing in the development and production of functional sports backpacks with protective function and sports travel goods. Since it was founded in 2008, Bernd Stucke and Holger Feist have been managing directors. The team at the headquarters is currently comprised of 15 employees in the areas of sales, marketing, and product design. To date, EVOC is the global market leader for backpacks with back protectors mainly used in ambitious mountain biking and winter sports, as well as bags for traveling with bikes. The well over 100 product models in the segments BIKE, SNOW, TRAVEL and PHOTO are sold globally via a network of distributors. ​
About BORA – hansgrohe:
Since 2015 BORA has been the main sponsor and eponym of the UCI World Team BORA - hansgrohe. Ralf Denk is the general manager of the team. Before, he managed the team NetApp (2010 - 2012), the team NetApp - Endura (2013 - 2014), as well as the team BORA - Argon18 (2015 - 2016) with its headquarters in Raubling. In the span of merely a few years, the team managed to work its way up into the UCI World Tour. It is the only UCI Professional Continental Team that has taken part in all three Grand Tours in just three years. BORA and hansgrohe are following a long-term strategy and have extended their contracts to 2024 ahead of schedule. Part of this strategy is to implement a very own team identity which is ​ aligned with a completely new stance on values and a renewed cycle sport. ​ ​ ​ ​
---
Press release to download:
201215_EVOCxBORA–hansgrohe_EN.docx
DOCX - 311 Kb
Download
Photos for use free of charge in the context of this press release. For direct download. Please mention the ©: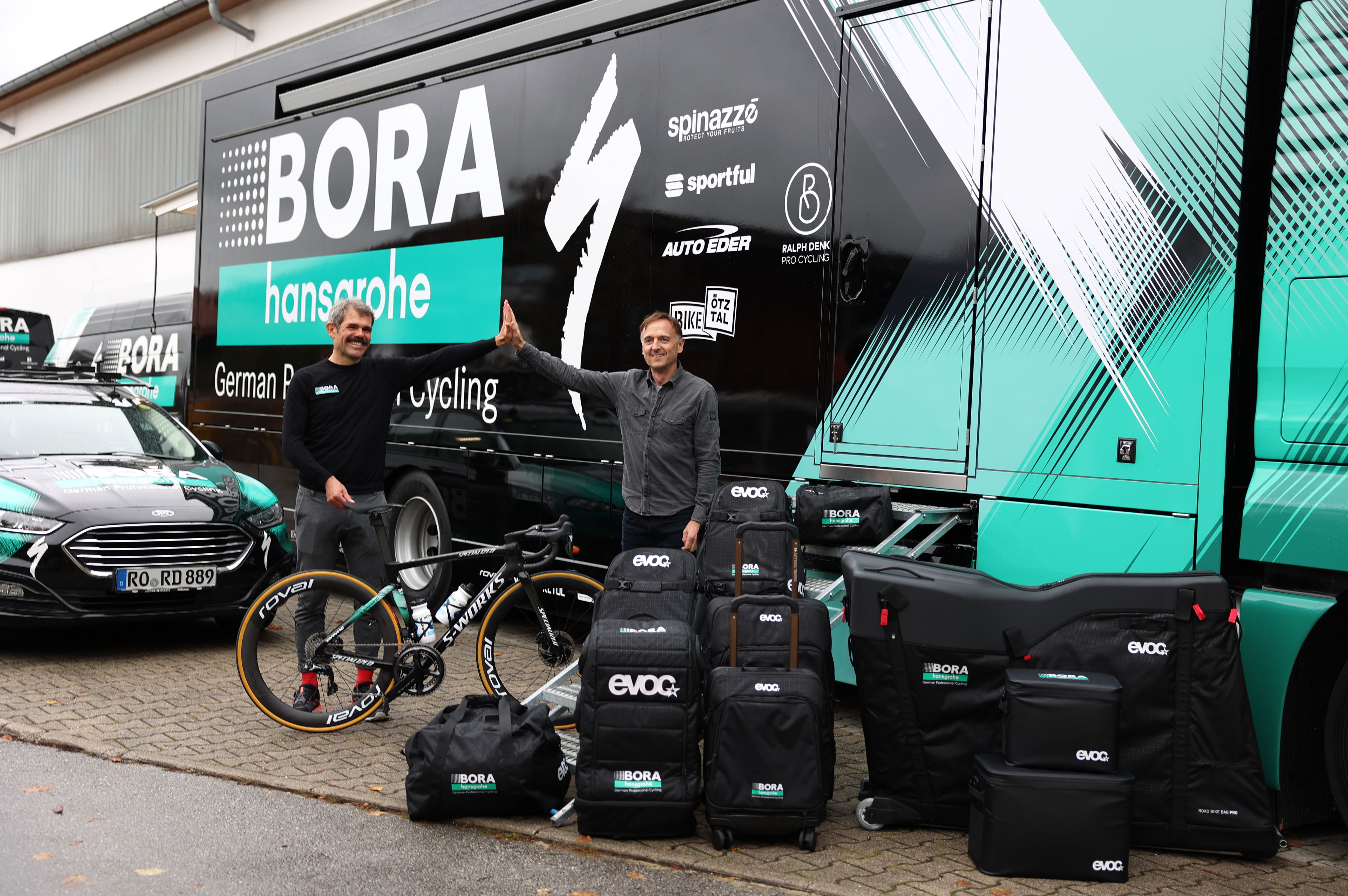 Royalty-free press photos (low-res) ©Bettiniphoto:
Please do not hesitate to contact us if you have any questions.