Discover comfort on adventures with the EVOC EXPLORER PRO
Setting off to discover something new, something off the beaten track and outside of your personal comfort zone - what follows is the ultimate multi-day bike adventure that will challenge you to the max! Whether it's breathtaking trails or the transalp competition, you'll want to rely on a trusted campanion that is with you all the way and takes the weight off your shoulders. The EXPLORER PRO, which comes in two pack volumes (26 and 30 liter), provides protection in challenging situations yet feels like it's not even there, making every mountain bike adventure an unforgettable experience!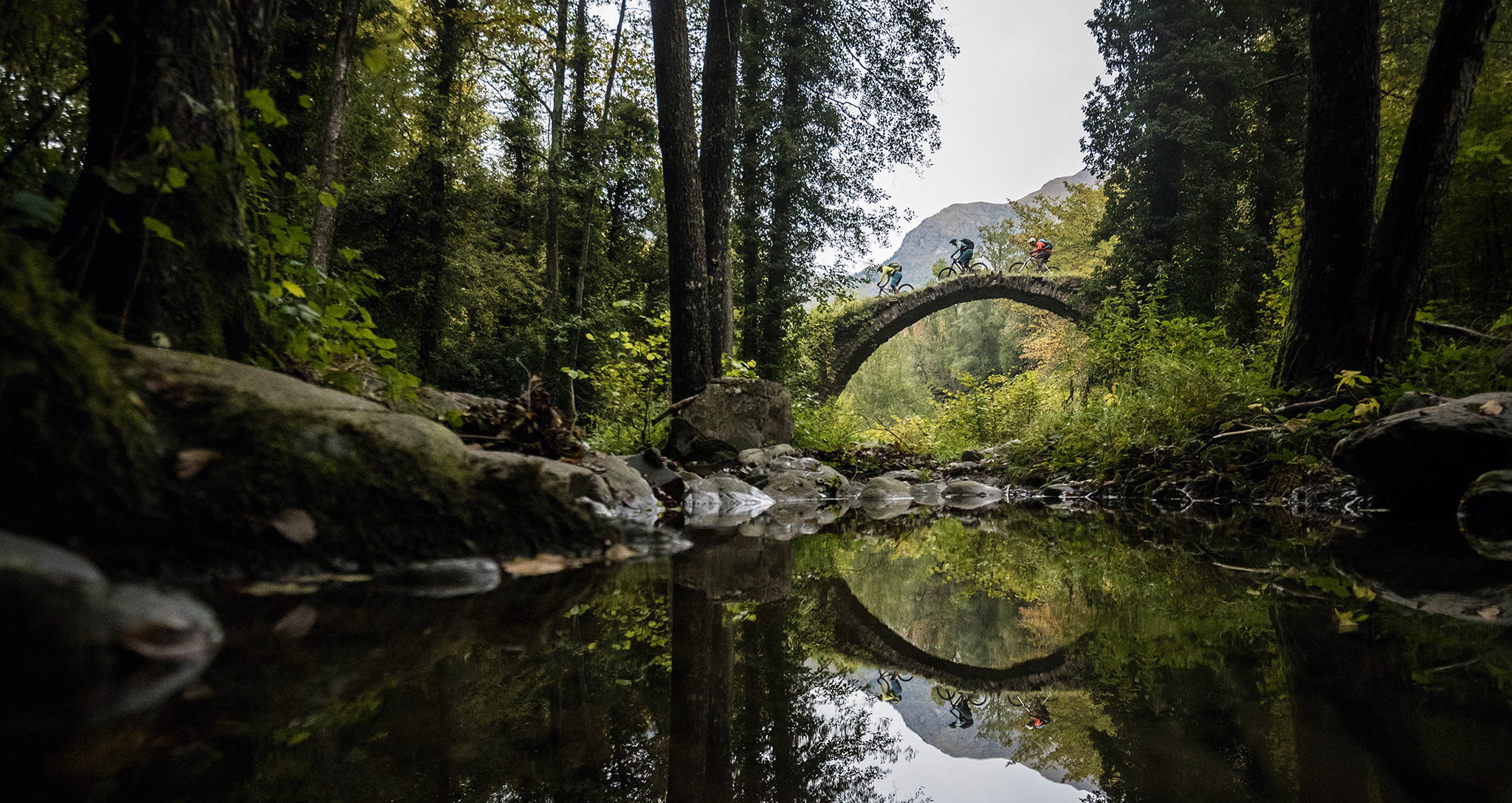 Perfect load distribution and a body-hugging fit are key for lightweight action on multi-day tours with a lot of gear. That's why we have redesigned our AIRFLOW CONTACT SYSTEM especially for the EXPLORER PRO. Our goal was to prevent pressure points even when the backpack load exceeds the recommended maximum weight of up to 10 percent of your body weight, as well as to keep the contact points between body and backpack dry and comfortable. Special 3D AIRMESH material absorbs moisture, dries quickly and ensures superior ventilation and air-flow. In addition, extremely soft EVA padding with excellent cushioning capabilities and integrated ventilation channels has been used in the back section, shoulder straps and at the hips. ​
​We've also added a new striking feature to our ergonomic carrying system and patented BRACE-LINK system with straps that automatically adapt to the wearer's shoulder width, namely softly padded, extra wide hip wings with integrated large zipped hip pockets that "grow out" of the backpack's main body. A bionic connection does not only make for brilliant load and weight distribution towards the hips but also creates the so-called BODY HUGGING effect. The backpack virtually becomes one with your body and stays in that position even on downhill runs! Thanks to breathable AIROFLEX material in the elastic hip belt, riders enjoy unlimited freedom of movement and outstanding wearing comfort.
Organisation is everything
When it comes to compartment organisation the EXPLORER PRO is a real masterpiece that helps make sure you don't forget any essentials at home, even while packing.
​To enable easy access and an overview you can open up the cavernous main compartment completely. You can also adjust its volume by means of the integrated roll-up feature at the bottom, or partition it off for dirty laundry or rain apparel, for example, which you can then also easily access using a zip at the base of the backpack.
​To make sure your bike dream does not turn into a nightmare for your bike buddies, the pack comes with a removable colour-matching WASH POUCH in the main compartment.
​Featuring a great number of pockets for necessities, the front compartment with quick access is like an integrated little on-the-go workshop. You can also store the EVOC TOOL POUCH and various maps in this compartment.
​Enjoy the ultimate flow without having to constantly remove the backpack, thanks to integrated, conveniently accessible hip pockets with additional stowage space for your energy bars, a small camera, your smartphone and even a FIRST AID KIT, without adding bulk. ​
​A separate compartment for a hydration system of up to 3 litres, together with the water bottle on the bike, ensures an optimum liquid supply just in case there is no mountain stream in sight for a while. The drinking tube on the shoulder strap makes it easy to drink even during maximum action.
​Our talented organiser also sports a flexible external compartment, an inside fleece pocket for your sunglasses, a helmet holder and an integrated rain cover with 5,000 mm breathability –for the hip pockets as well.
​And since every adventure already starts in your head, EVOC has printed a detailed pack list for multi-day mountain bike trip on the hangtag of the EXPLORER PRO.
Developed to withstand the elements
The upper material of the EXPLORER PRO is made of abrasion-resistant, durable 420D nylon, while the bottom section features 600D nylon, which can withstand even sharp rocks and edges. On the inside, all of the nylon sections are PU-coated, providing them with an impressive water-resistance of 1,500 mm.
​To ensure the perfect relation of body height, weight, torso length and backpack volume, the EXPLORER PRO is available in two versions: the new 26 l capacity pack with a back length of 48 cm corresponds to a size S (like the EVOC PROTECTOR BACKPACKS), while the multi-faceted 30 l version with a back length of 52 cm corresponds to size M/L. Vour different colour variations are available for each pack volume.
Volume, Weight and sizes: 
26 l, 1250g, 27 x 48 x 19 cm
​Colour: Black, Heather Ruby, Heather Light Olive - Heather Slate, Gold
30 l, 1350 g, 27 x 53 x 19 cm
​Colour: ​ Black, Heather Light Olive, Heather Slate - Heather Neon Blue, ​
​Heather Carbon Grey - Heather Ruby
Price: 180,- EUR
​
​Available in stores.
---
Press release to download:
PR_Explorer Pro
DOCX - 499 Kb
Download
Royalty free images to download: ​
​EXPLORER PRO 26
EXPLORER PRO 30