BIKE TRAVEL BAG PRO: NOW LONGER AND WITH NEW FEATURES
EVOC SPRING/SUMMER 2019: BIKE TRAVEL BAG PRO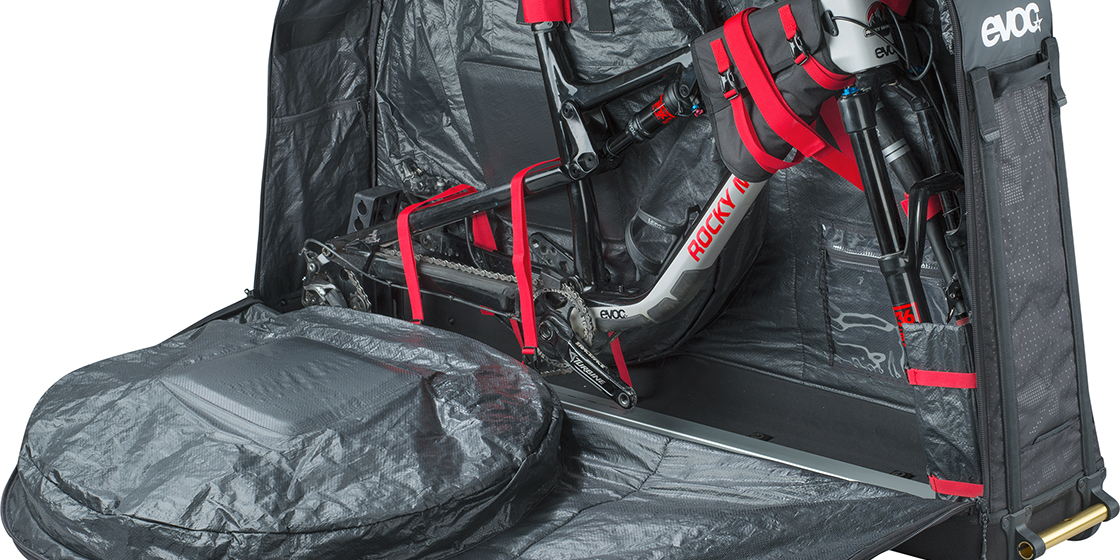 THE BIKE TRAVEL BAG PRO IS THE NUMBER ONE CHOICE FOR TRANSPORTING BIKES. WHETHER YOU'RE TRAVELLING BY PLANE, CAR OR TRAIN – EVOC'S FAMOUS AND SUPER SUCCESSFUL BIKE TRAVEL BAG HELPS YOU PACK YOUR BIKE SAFELY AND SECURELY IN NO TIME AT ALL. FOR SPRING/SUMMER 2019, THIS TRAVEL BAG SPORTS NEW FEATURES AND A NEW LOOK. AMONG THE HIGHLIGHTS IS AN INTEGRATED ALUMINIUM BIKE STAND, TOO. TO MARK EVOC'S TEN-YEAR ANNIVERSARY, THE BIKE TRAVEL BAG PRO IS EMBELLISHED WITH A VERY SPECIAL PRINT, NAMELY THE STYLISED SKYLINES OF MUNICH AND HONG KONG.
Tired of picking individual parts of your bike off the airport luggage belt or arriving at your bike trip destination only to find that your bike has suffered quite a bit during the journey in the car boot? We now have brilliant news for you: To ensure even more safety and stability for your bike, we've upgraded our BIKE TRAVEL BAG PRO. As of fall 2018, the legendary bike bag will be available with an integrated aluminium BIKE STAND. The sturdy stand, which can be adjusted to two lengths, is now a standard component of the BIKE TRAVEL BAG PRO, as opposed to the optional, chargeable extra that it used to be. Racing, triathlon, XC, freeride, downhill or enduro bikes – no problem, with the included interchangeable adapters that enable transporting of bikes with wheelbases up to 130 cm. The bag is 6 cm longer than the previous model, making it suitable for 29-inch bikes as well. A big plus for racing bike riders is that they no longer need a road bike adapter thanks to the integrated BIKE STAND.
In keeping with the mountain bike trend towards plus size tyres, EVOC has upgraded the separate wheel compartments on the side: Starting with the 2019 bike season, there's space for 2.6-inch width tyres in the two compartments. And if you're concerned about your brake discs while in transit, not to worry: As before, DISC PROTECTION with specially shaped EVA padding integrated on the outside of the bag prevents damage to the sensitive disks. Once the bike is in the bag, it is very easy to secure with the bright red straps.
The CLIP-ON WHEEL for the front of the bag has also been redesigned: Those of you who have to pull the BIKE TRAVEL BAG PRO over longer distances will love the even tougher clip-on rubber wheel that only requires a large strong pin for fixing. Various other clever features such as the exchangeable skate wheels, lockable zipper and business card holder (which has also been optimised) ensure perfect comfort and maximum protection while travelling. Thanks to improved materials the bag now boasts even more enhanced quality. And when you've reached your destination and unpacked your bike, the BIKE TRAVEL BAG PRO can be folded to a third of its size and compactly stored.
The new BIKE TRAVEL BAG PRO will be available for purchase as of fall 2018.
SPECIFICATIONS
Volume: 320 l
Dimensions: 147 x 36 x 85 cm
Weight: 10,000 g (including BIKE STAND & CLIP-ON WHEEL)
Colours: Black, Neon Blue
Price: 595.00 €
EVOC_2019_BTB-PRO_ENG.pdf
PDF - 328 Kb
Download
EVOC_2019_BTB-PRO_ENG.docx
DOCX - 523 Kb
Download